The (business) case for sustainability has hardly ever been as strong as today. Companies are struggling with volatile energy and material prices, pressure from investors and key accounts (who amongst others ask for credible and ambitious net zero strategies) and finally upcoming policy on transparency and reporting. Therefore, now is the moment for business leaders to act decisively. Can you turn obligations and compliance into a competitive advantage?
The time is now to act on sustainability, in order to keep up with the growing pressures from stakeholders and upcoming or planned regulations.
The time a company had the choice if sustainability was a priority, what activities to consider as sustainable and how to report them to the stakeholders is soon to be over. It will be an unpleasant awakening to say the least for those companies that did not anticipate it.
On 5 January 2023, the Corporate Sustainable Reporting Directive (CSRD) entered into force, which sets common European sustainability reporting rules. Going further than the existing Non-Financial Reporting Directive (NFRD), the proposal extends the scope to all large companies (following the European definition) and all companies listed on regulated markets, directly impacting approximately 50,000 EU companies.
Companies under scope will have to disclose in the annual report how their business model affects their sustainability, and how external sustainability factors (such as climate change or human right issues) influence their activities. The information must be disclosed according to the European Sustainability Reporting Standards (ESRS, currently only draft documents are available), which will be mandatory subject to external assurance. The objective is to equip investors and other stakeholders to take informed decisions on sustainability issues.
To create a common language between companies, investors, and policymakers regarding which economic activities can be considered environmentally sustainable (and to avoid greenwashing), the European Commission has created the EU Taxonomy classification system. Companies under scope of the NFRD, and soon the CSRD, need to disclose what part of their business (turnover, OPEX and CAPEX) are related to activities that meet the EU Taxonomy criteria. For this, the business activities need to substantially contribute to at least one of 6 environmental objectives (see below), while not having a negative impact on the others.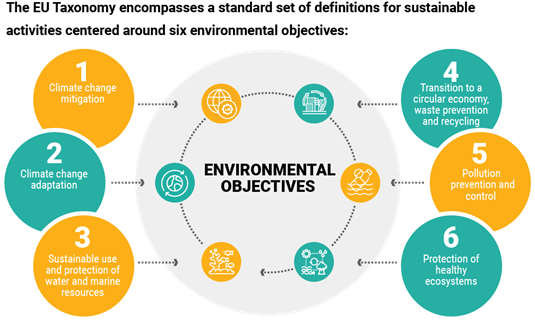 It is expected that from 2024, all companies within the scope of the CSRD, need to indicate what share of their turnover, CAPEX and OPEX is dedicated to activities considered sustainable under the EU Taxonomy framework. For large listed companies falling under the current NFRD, this is already the case.
The two regulatory initiatives described above are just an indication of a policy trend that will continue to raise the bar for companies regarding sustainability. We can easily add the Corporate Sustainability Due Diligence (CSDD) proposal to this list, which is currently being discussed at an EU-level. This initiative complements the current NFRD and the upcoming CSRD by proposing to add a substantive corporate duty for some companies to identify and where necessary prevent, eliminate, or reduce negative impacts of their activities on human rights and the environment.
Policymakers are clearly putting building blocks in place that will shape how companies can and will contribute to global challenges. How can you start organising to take advantage of it?
Organising for sustainability excellence: where to start
The policymaker is leading from the front, urging companies to disclose, be transparent and communicate performance. More companies are looking to turn obligation into opportunity; and develop sustainability strategies that make them meet stakeholder expectations, manage risk and capture business opportunities. Will this be done overnight? It does not seem so. Only 2% of sustainability programmes meet or exceed expectations – in comparison: companies get lean transformations right 20% of the time. Why is it so hard to organise for sustainability success?
We see three ways in which organisations can set themselves up to succeed.
Use materiality as a strategy steering process rather than a reporting formality
The materiality analysis will allow you to prioritise ESG (Environmental, Social, and corporate Governance) topics that matter most to the organisation. Materiality should not limit itself to the occasional materiality survey that employees fill in – or on a limited number of interviews with senior leadership. Materiality is the process in which you define topics that influence the ability of the company to create long-term value, both for the company itself and for critical stakeholders. It is the opportunity to enter a broad(er) strategic exercise and chart policy trends, market risks, technological developments – and link them to key material topics. If you are looking for a starting point on what could be material topics for your company or industry, we suggest starting off with the SASB Materiality Finder.
The reporting standards under the CSRD determine that every company under scope needs to disclose the methodologies and assumptions applied to perform their materiality analysis. Additionally, the ESRS requires sustainability matters to be reported based on the double materiality principle, covering the dimensions impact materiality and financial materiality.
More information on double materiality
Today, we see a lot of organisations stop when the material topics have been identified – which clearly is a missed opportunity. More than a mandatory step for (CSRD) compliance, the materiality analysis is the foundation for the construction of a future proofed sustainability strategy and execution. There is value in linking material topics to the maturity of the company in managing them – to identify short-term priorities and link clear action plans to topics deemed 'high-priority material.'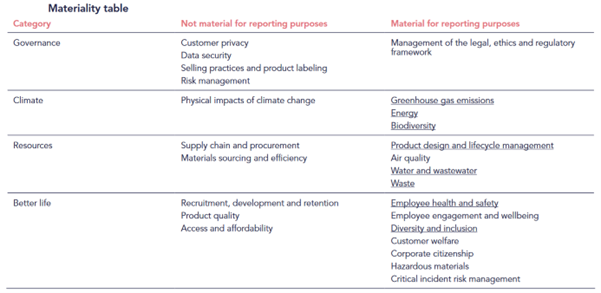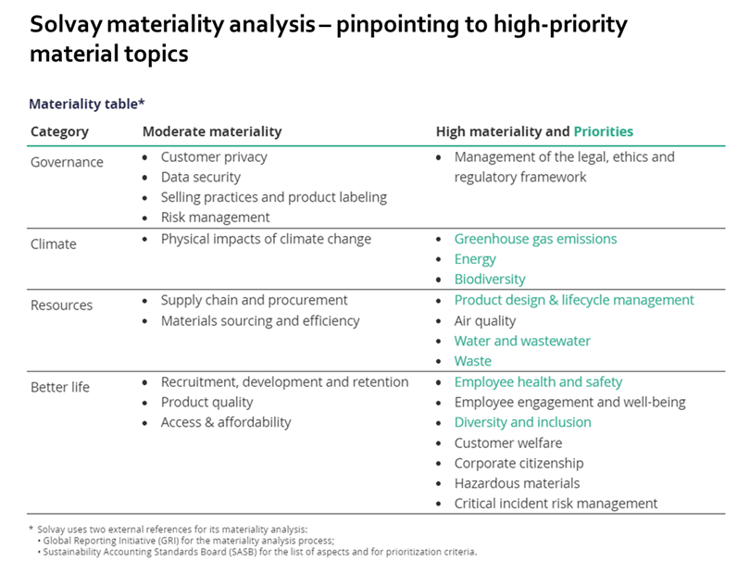 Design an appropriate governance structure that fits the organisation – and allocate the right responsibilities to a central team
When talking about sustainability governance, the most frequently asked question is where to put the overall responsibility and accountability: within the CTO, CMO or another executive role? There is no one-size fits all answer on where to put the end responsibility, nor which 'organisational structure' to use. Overall, the only universal principle to adhere to is to make sure the model of your choice fits with how the organisation is used to organise itself: does the company tend to centralise responsibilities, or give freedom to business units?
One of the crucial design choices to make is what responsibilities you consolidate in a central team, and what matters you leave for business units, functional groups, or plant locations. What tasks are logically clustered within a transversal sustainability office?
Let sustainability initiatives emerge through process and system redesign – rather than one off sprints or disparate action plans
Broad awareness and capability building: AXA Group is increasing the climate literacy of all its employees across the board – to make sure climate-friendly decision are proposed and taken in all levels of the organisation

Sustainable portfolio management: Materials company Solvay manages the sustainability performance of its product portfolio through clear targets and cheques built in the product development process

Performance management: the single most effective measure for sustainability success, cite a lot of sources including European food player Vandemoortele, is linking executive compensation to sustainability goals.