The collaboration with Möbius has made us realise that you can have a major impact on the organisation with a few targeted interventions. We were able to implement the proposed improvements quickly and efficiently thanks to the professional approach of the consultants who assisted us. At the conclusion of their assignment, they leave a solid foundation for further optimising the operation of Innoviris.
Approach & results
Where we initially planned to organise physical world cafes and work sessions, our plans were thwarted by Covid-19. We were forced to switch to a fully digital working method, which would ultimately take the entire process. Through an interview round of all team leaders we came to the core of the pain points that were introduced in the organisational analysis. In order to work both top-down and bottom-up, we worked out a vision with management about how internal communication should be conducted and which roles were in which decision-making bodies without having to adjust the statutes and mandates.

The topics that appeared to be the intersections between the output of the interviews with the team leaders and the vision of the management on the other were transformed into four central workshops. As a target audience, we invited all employees without obligation to brainstorm about one of the three specific themes.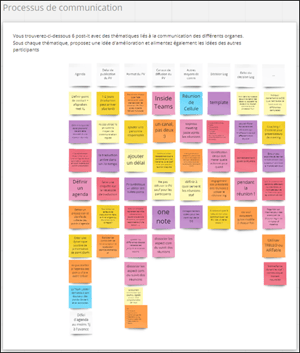 The outcome of these sessions was a defined meeting structure with a management committee, a management meeting between the team leaders and direct meetings between management and underlying cells. Together with the employees, we set up a meeting culture that responded to the need for structured meetings. A fixed agenda, defined roles, agreements on meeting hygiene and follow-up documents became the new standards that Innoviris introduced with pleasure and success.

Subsequently, we worked out a renewal of the job descriptions of middle and top management together with the team leaders. To get all the processes in these job descriptions, we created a process map in which all cells are represented with the main processes covered here. In a layer below the process map, we elaborated at a high level the various processes that detail this main process. Based on this overview, we drew up a RACI matrix. Here you get an overview at a glance of who is "Responsible", "Accountable", "Consulted" or "Informed" in all activities or processes. Based on these overviews, we obtained job descriptions that represented the entire operation of Innoviris.