Very professional support from Möbius to coach the people in IBP but as well to get leadership buy-in and to design the process together with all stakeholders.
Approach
Before project start, an assessment was done to find out the status of IBP within the business unit:
Interview sessions of all relevant stakeholders (12x)
Observation of existing IBP and sub-meetings for the 3 business lines, global and regional (10x)
After the assessment it was agreed to perform an approach in 3 tracks:
Define the Supply Chain vision and organisation + on-board and align stakeholders + train/educate the organisation in basic Supply Chain Management skills and knowledge.
Form and implement the processes and the structure.
Develop, implement and train supporting tools.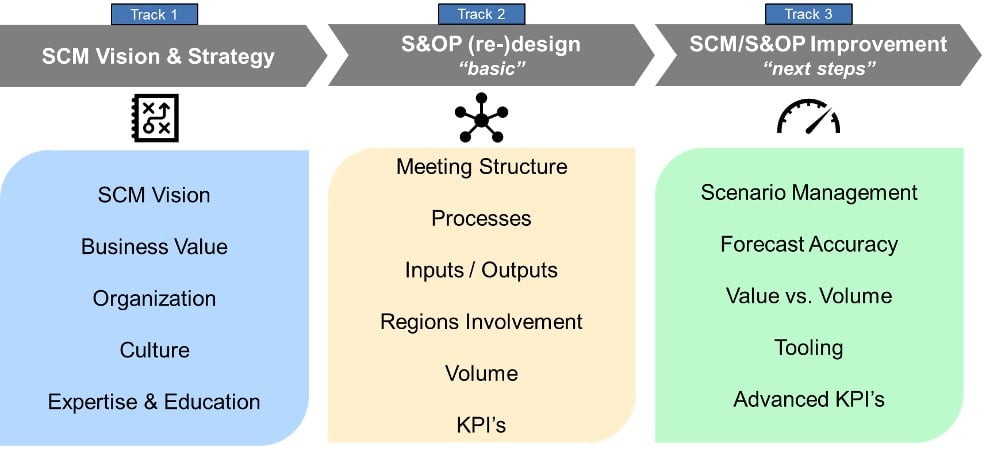 Results
Process Design & Implementation
A new and updated IBP organisation was formed wherein relevant people were trained.
Full buy-in for IBP and its processes was created from the Business Unit Management Team and all other relevant stakeholders in the organisation, by explaining the conceptual model and its benefits, to ask for their inputs, and to involve the Management Team in the last step of the IBP cycle.
A standardised and robust IBP process for all business lines (products) and all regions was in place at the end of the project. Supply chain KPI's have been developed and especially the integration of demand (both coming from the markets/regions as well as from global product management) has been developed and professionalised.


Tooling Development & Implementation
Basic master planning and IBP tooling has been developed for all major products to support the process.
A new Demand Review tool was developed and implemented to capture & validate all global demand (at product line level and for all products). The usefulness and correctness of the tool was also demonstrated via several IBP cycles.
To ensure one-source of high-quality data, a Supply Chain Data Warehouse has been designed and implemented, which was used to feed sales, forecast, planning, and inventory data into the IBP process and its tools. The data collection automatically extracts the relevant information from ERP and various excel sheets.